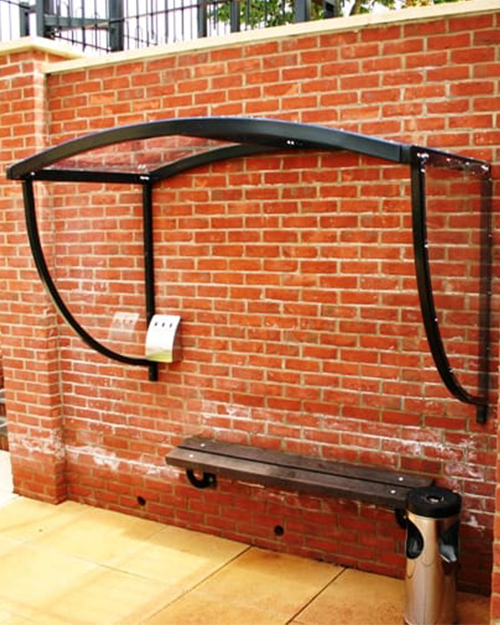 Why choose a canopy smoking shelter?
Location of a smoking shelter is a very important factor to consider. If you have ample space and the right type of ground works, then you can select one of our freestanding smoking shelters. However, if you are restricted to space but still wish to comply with UK legislation and provide your employees and visitors with a designated smoking area then having a wall mounted smoking canopy is the best option for you.
Tamstar – our products and services
Our products are excellent value for money. We strive to offer quality and longevity. Not to mention, for added peace of mind  our canopy shelters all come with a 5 years manufacturer guarantee. This is something that many of our other competitors don't offer.
Our framework is UK manufactured heavy duty galvanised steel (BSEN ISO 1461) as standard with an optional polyester powder coating. This coating provids extra durability and as well as a nice colour finish. The glazing panels are clear Petg which provide UV protection equivalent to clear plastic Perspex whilst also being stronger and impact resistance.
What canopy shelter sizes are available?
Our canopies come in different sizes and in a variety of standard powder coated RAL colours as well as various non standard colours. We can tailor your smoking shelter to suit your company corporate image. The capacity starts from a 4 people to 6 people wall mounted smoking canopy.
Please contact us to discuss options or queries with one of our experienced sales team members.