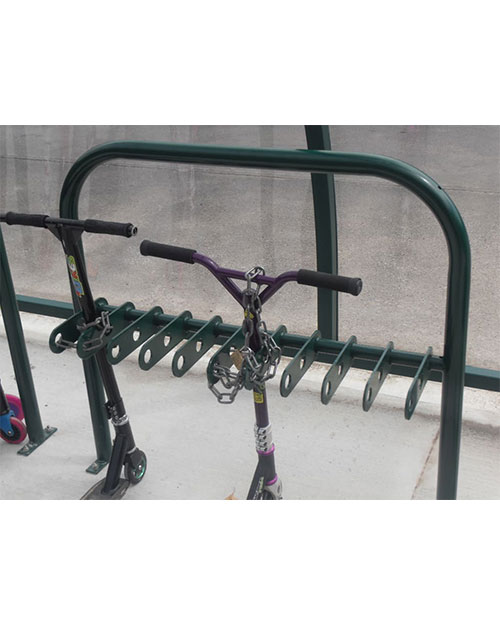 CYCLE STANDS AND RACKS
Cycle stands are a very simple and cost effective product offering security for your bike. They can be located almost anywhere either in single or multiple format. They are usually manufactured from stainless or galvanised steel and are available in various styles and designs to suit the area they're located in.
Benefits of having cycle stands
Storage
Many people will feel more reassured knowing that their bikes will be stored upright and safely, especially members of the public visiting supermarkets or town areas during the day.
Healthier lifestyle
Travelling to and from places using a bicycle is a great way to start leading a more active and healthier lifestyle for both adults and children.
Traffic congestion
More bikes mean less cars on the roads. Not only does this reduce congestion, specifically at those busy times, this also helps the environment by decreasing carbon omissions .
Key information on Cycle Stands
Cycle stands are any type of constructed stand or rack which can be used to secure and store bicycles. They are typically fixed above ground level or have extended legs to be fixed below ground. There are even versions that can be attached to a wall and then the bike secured with a locking mechanism. Those locking mechanisms include padlocks and combination padlocks sometimes with heavy duty chains.
How do cycle stands and cycle racks works?
With some cycle stands, one of the wheels of the bike is slotted in between two 'parallel' bars which are fixed to the ground or wall and then locked.
The most common free standing type is the Sheffield bike stand which is a simple 'N' shaped steel tube fixed in singles or mounted in multiples on horizontal bars.
These are also most common with our range of cycle shelters and cycle compounds.
Please look at the various options available in our cycle stands section alternatively you can contact one of our experienced sales team for further details.