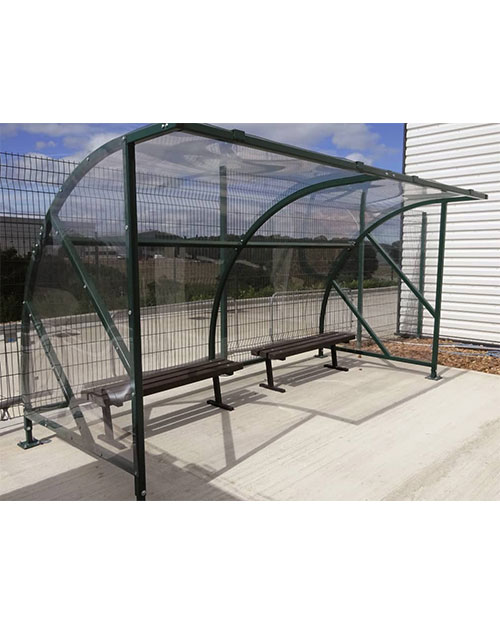 An Introduction to Waiting shelters UK
Waiting shelters are a way of offering shelter and protection for the public by providing a dry place from poor weather conditions, a shade in hot weather, if you need some fresh air, or an area to wait. Either way, a waiting shelter is convenient and ideal for any customers, parents, or other occupants in different public places.
Different purposes for a waiting shelter
Office Building/Warehouse Waiting Shelter
A waiting shelter is great outside office buildings, industrial manufacturing sites, and warehouses. It ensures employees have an area to socialise or have a break from working but with the added protection from the weather.
Bus Stop Waiting Shelter
A large number of people use buses as their transportation, waiting for a bus to arrive can take a few minutes or even longer. Therefore, it is key to have a waiting shelter to keep people covered from the rain or strong winds while they are waiting for a bus. Plus, waiting shelters at a bus stop will encourage more people to use the bus as a way of traveling because they know they will be protected.
Train Station Waiting Shelter
It is important to have waiting shelters at a train station. This is because people need protection when they are waiting to catch a train, waiting for their taxi, or waiting to get picked up by someone.
Also, some train stations have outdoor platforms, so people need to be sheltered when waiting for their train on the platforms. Hence, it is easier to have waiting shelters to protect members of the public from weather conditions.
A Waiting Shelter for Schools, Nurseries, Colleges, and Universities
A waiting shelter can be useful to have at school and nurseries for parents to comfortably wait to collect their children at the end of the day to leave school or socialise with other parents. This helps parents to be protected from the weather and makes it an easier way to have a safe designated area.
Furthermore, a waiting shelter is helpful to have at colleges and universities for students to be sheltered when socialising with other classmates or waiting to be picked up if needed.
Common Waiting Shelters
Waiting shelters can be installed practically in most areas which can include both city and urban developments as the public needs to be sheltered when waiting for friends, taxis, or other reasons.
In addition, many waiting shelters may have an optional extra or may include benches or other seating choices either built-in or free-standing. This is great for people who use the shelters for longer and provides them an area to sit down rather than stand while they are waiting.
Outdoor waiting shelters can come in different sizes and styles, with a seating area available, here at Tamstar Ltd we provide excellent customer services and high-quality waiting shelters. Please don't hesitate to contact us for more information or answers to any queries.