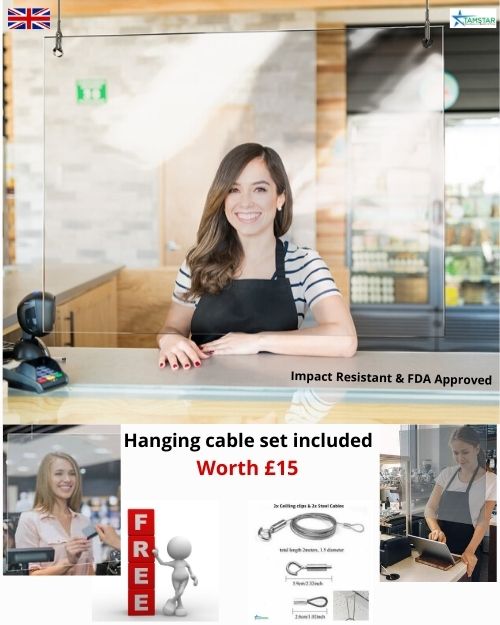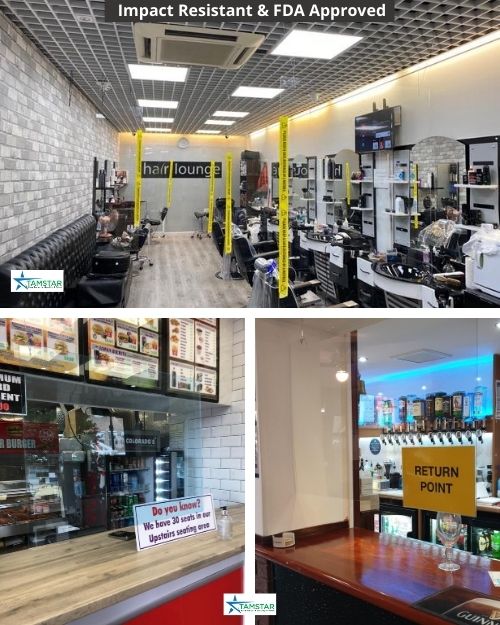 Everything you need to know about Sneeze Guards & Sneeze Screens
What is a sneeze guard or sneeze screen?
A sneeze guard is a protective screen manufactured from either Perspex, acrylic plastic material, or glass and is designed to protect people from the airborne transmission of Coronavirus (COVID-19)
Sneeze Guards are ideal for locations where social distancing is just not possible, such as at till payment points, checkouts, or reception areas.
Do you have to provide sneeze guards?
For a business to be COVID Secure, screens are recommended to form a protective barrier between employees and customers. Or employee to employee.  The World Health Organisation advises to: Use physical barriers to reduce exposure to the COVID-19 virus, such as glass or plastic windows.
What type of sneeze guards are available?
There are two basic types of sneeze guards, standing or hanging and both types of protective screens can be purchased from us and installed independently. So lets have a look at the options available:
Standing screens
You can install a permanent sneeze guard, or you can opt for the temporary models. These protective screens come with either triangular legs or a desk clamps for a more permanent sturdier frame requirement.
Hanging screens
A hanging sneeze guard takes a little more effort to install. But, it's worth it if you want to keep your counter space clear. This A hanging sneeze screen will involve adding a mount to the ceiling. The sneeze guard can then be fixed in place with a variety of fittings.
What material is a sneeze guard made of?
Perspex and acrylic are both used to make sneeze guards because they are water-resistant and durable. Additionally, there is always the option to install glass guards. However, most customers have found acrylic options to be a more affordable material, that is also easy to install.
Many other types of plastic are used to make sneeze guards like PVC and vinyl, but we find acrylic and perspex to be the best cost-effective and durable solution.
Another point to mention is most perspex sneeze screens are cheaper than acrylic screens. This is because acrylic is made with a process known as cell casting, which is more expensive and requires a more laborious process. Therefore, making acrylic a more budget-friendly material.
What organisations do you supply Protective Sneeze Screens to?
Our portfolio of customers and successful projects include the following:
Manufacturing sites, Industrial units, Distribution centres, Warehouses, Business offices, Call centres, Councils, Schools, Colleges, Universities, Hospitals, NHS, Nursing homes, Pubs, Windpower farms, Shipping ports, Contractors, Construction, Landscaping.